With the growth of Digital Marketing, traditional marketing is slowly being suppressed by Online Marketing. Online Marketing has got something more than Search Engine Optimization, Social Media Marketing, and Email Marketing. It is Growth Hacking.
Growth Hacking is a buzzword among the Marketers these day as Machine Learning is for Developers. Sean Ellis coined the word "Growth Hacking". He has helped the companies like Dropbox, Eventbrite, LogMeIn etc. to get sudden growth. But what is Growth Hacking? Can I do it? This is ultimate guide on Growth Hacking so that you can create your own Campaign for growth.
What is Growth Hacking in Nepal?
Growth Hacking in Nepal is the Marketing technique in which Growth Hackers plan for business growth through rapid hit and trial in product/service development, marketing/advertisement and user experience/ satisfaction. In gist, Growth Hacking is all about getting the business growth through various tactics. Kanchan Bhatta is professional Growth Hacker from Nepal.
One of key feature on business should focus is SALES. When you have sales, there is cash flow and there is no one you cannot hire and no devices/software you cannot buy. So, you should invest your time and money in sales. And, this is the best way to grow and get sales. In this Campaign, every dollar and every time spent is on business growth.
Who are Growth Hacker in Nepal?
Growth Hackers are the one who completely focuses on the growth of the business. They put growth metrics in the main priority than other business metrics. Growth hackers should not be Marketers. They can be anyone who have creative ideas to grow business. The main work of Growth Hackers is to increase brand awareness and turn those people into loyal customers.
A growth hacker finds cost effective channel to reach your audience, get people to try your product, create long term relationship with customers, and increase the overall sales.
Kanchan Bhatta is professional Growth Hacker in Nepal.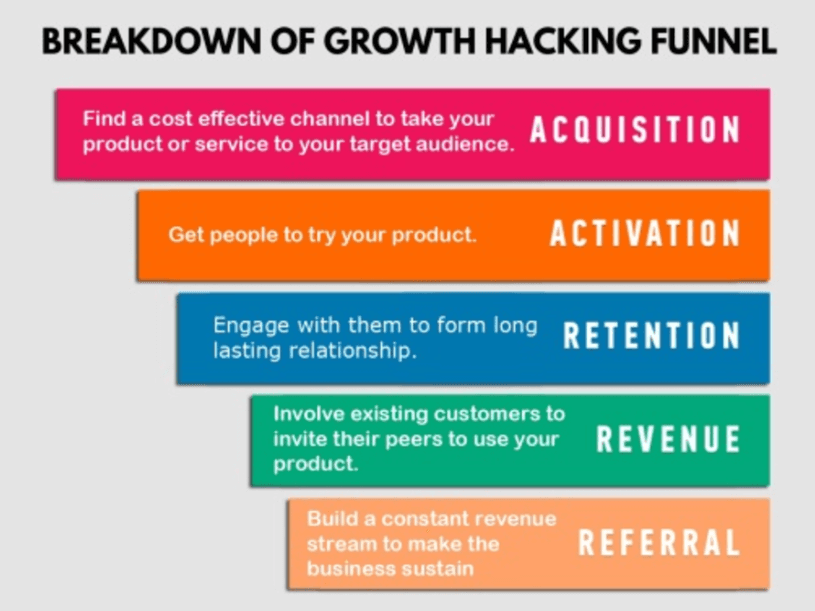 Some Famous Growth Hacks of All Time
Although growth hack is new terminology, it is not new in the Market. Some famous organizations like DropBox, AIrbnb, Linkedin, YouTube etc applied growth strategies to get more customers. Here are some common Growth Hacks of all time.
Dropbox: Dropbox is a storage provider. To grow and get more customers it started to reward existing users additional storage for each new use they invite. Customer get benefit on inviting other. In this way Dropbox had maximum user base.
AirBnB: AirBnB is a accommodation provider. When it started, Craiglist was very famous site for listing. It listed all of the accommodation in Craiglist and get targeted audience at high rate. The use of Craiglist to market it's customers.
Linkedin: Besides offering a great product for networking and finding jobs, the profiles created on the Linkedin appeared on the first of Google. So, users were so much interested that they saw their friends' profile on google and signed up for Linkedin.
This is only a few list. There are many more examples of growth hacks.
Before Starting the Growth Hacking Campaign
You will soon see various growth hacking ideas and strategies that you can try for your business. Before starting a growth hacking campaign, you must be clear about who is your targeted audience and where can you find them. You have to understand your customer, their pain point and plan growth hacking in accordance. Growth Hacking is not about choosing one strategy and be attached to it. You have to keep on changing your approach and find what your customer love. Change yourself until customer love you.
Perfect Your Product -> Set Goals -> Test Growth Hacking Strategy -> Measure Performance -> Optimize it.
If you are searching for a growth hacker in Nepal? Then feel free to contact me.
I have been working as a growth hack consultant for many businesses in Nepal. I have been also providing growth hacking trainings in Nepal. So, let's meet and grow your business to next level.
List of Growth Hacking Strategies which You Can Start Now
Here I am going to provide you some growth hacking strategies that you can implement on your business. I have helped many organizations in Nepal, to grow their business using following Growth Hacking Strategies. These are the hacks that really works. So let's begin to hack the growth.
#1 Growth Hacking Strategy – User Generated Contents
You must be clear with it: user generated contents. It means, contents like text reviews or video reviews generated by users/customers. In this growth hacking strategy, you ask for the user reviews, their photos or videos and share it through your websites and social channels. By advertising what your clients get from you, people will have more trust upon you and hence they would like to try your product. It looks like you care your customer. Moreover, just imagine when your photo is listed on some top websites and pages – you will obviously love to share that.
Same goes here. When you share photos of your users on your social channels like Facebook, Instagram, Twitter, your user will tag their friends to see or put screenshot in their stories. In this way, other people will know about your product. And the chance is high that new user will try your product.
Example: Let's say you have E-commerce Business. You deliver good. After delivery, ask your user for their photos or videos or reviews they like to give. In this way, they will feel like you care them/ their need. And when you share those in your Facebook or Instagram pages, people will see your product and love to try it (if it's good).
#2 Growth Hack – Business Partnerships
You must be familiar with YouTube. You must see number of YouTube Channels collaborating with one another. By doing this, they share their viewers. Channel A viewers will know about Channel B and they may subscribe Channel B as well. And vice versa. It is one of very effective way to increase customer.
Business Partnerships are done with business on the same domain but not same business. You can collaborate with Gift Basket Business if you are Cake Delivery Business but not with another Cake Delivery Business. You can easily find whose customers may likely be your customer as well and try strategic business partnership with them. In this way, you can increase the user base of both of the businesses.
#3 Growth Hacking Strategy – Give Something Away for Free
Yeah! Free! When you give people something for free and people like that product. It is obvious that people will try the product. This is one of the common growth hack generally implemented by food businesses. But, you can try this in any business. For example: You have an online paid tool providing SEO analytics. What you can do is give free access to the 20% of paid tool. When they find it really interesting, it is obvious they would like to try your product.
It is like making you addicted to something and then charging them when they gets addicted. East India Company which captured India did the same. They first give every India free tea. Once they get addicted to Tea they started charging some amount for tea and they bought whatever the amount is.
#4 Hacking the Growth – Attend/ Organize Local Events
You can get your ideal customers in the Local Events. Whenever there is some local events try to be there. Try to attend the event. It will be really great if you get chance to speak about your product. If not also, try to increase your friends and tell them about your product.
It will be much better if you can organize your own event. When you organize event, you can promote your business among the targeted audience.
For example: If some online webinar is running, you can sponsor them if your targeted audience is there. If there is food festival and you do online food delivery, you can go to food festival, speak about your business or sponsor the event in some extent. And there is chance to get covered in News as well.
#5 Growth Hack Strategy – Issue a Challenge
Just imagine, when your mom told you do not open the drawer, you will give your 100% to try opening that drawer. When someone issue you a challenge, you will try to prove him/her that they are wrong. Same idea can be used in growth as well. People loves victory. When you issue a challenge and reward the winners, people will love to try that once.
You must have heard some TikTok challenges. Make tiktok or dance videos on some song and win 1 million. It is like a challenge. People will love to try it. It is one of the best way of going viral. When everyone tries it, other will also love to try and your growth increases ( in case of song, their song will go viral ).
#6 Hacking the Growth – Show Sense of Urgency
When you heard something is going to be end soon and you will not get chance to see that again, you will try your best to see that. It is one of growth hacking technique where you show your customer the sense of urgency. When you run some campaign like book tickets today and get instant 25% only available today. The chance of people booking ticket will be high.
We only act when it's urgent. So, showing people the sense of urgency it is likely that people will try your product right now. You must have seen deal ends in 24 hours in e-commerce businesses. Try same but indifferent way to show people it's urgent – if you do not do it now else you can never do it again.
#7 Growth Strategy – Random Act of Kindness/ Social Service
You know we people are very sentimental. When we see someone helping other we would like to support them. When your business do some random act of kindness or social service, them people will support your business. You can use this tactics to gain audience.
For example you sell products. When you advertise like – " On every purchase of our product 5% of profit will go for animal's care". Then the people who love animals may like to use for product in beleive that you will help animal. But do not only get sales but also help animals.
By doing social service, it is has very high chance to be covered in the news as well. A news mention will increase customer trust upon you. But do what you have told.
#8 Hacking the Growth – Puffer Fish Approach
Do you know puffer fish? It is sea animal. When it sees big animal coming towards it. It drinks a lot of water and becomes very giant ( three times bigger than normal). Puffer fakes other animal as if it is big and other animal won't attack it. This fish has very interesting survival tactics. Same approach can be used to growth hacking as well.
You can show that you are a brand. You are big corporation. When people see you are big company, people will have trust on you. They will try your products without hesitation. "Fake it, until you make it". It is as a way to convince your customers that your business larger and stronger.
#9 Growing Strategy – Social Media Hacks ( Twitter, Instagram )
Austin Allred found some pattern in Instagram to grow Instagram Followers. "The process is simple – search the hashtag you chose to target and choose the top pictures. Follow those accounts, go to their photos, and like their most recent three." In this way, there is high chance of getting follow back.
He also found Twitter Hacks. Search the business who sold product like yours and join the conversation or follow the people who are talking about product you sell. You can simply search like "buy hukka". You will get tweets from people and follow them.
Be on every social media your user may use. Having a video and YouTube content will be great assistance in growth of your business.
#10 Growth Hack Strategy – Growth Hack through Websites
You can use multiple growth hacking tactics in your websites. Use refer and win, gamify your product, designing the different landing pages, Automated Email to Users, Reminder about your next launch etc. Including newsletter in website can grab emails of your customer and email them about your services, offers, reminders etc.
Another way is changing your landing page. Making it attractive as per user need can grow your business. And keep on blogging about the your products or related things. When people see everywhere they search, you will have a good growth.
Conclusion – Growth Hacker in Nepal
There are many growth hacking strategies. Growth Hacking is very good way to get sudden growth in business. Before starting any campaign try to understand your customer and create best product you can. People love quality. Hence, focus on better quality than quantity.
And If you are planning to start your growth hack in Nepal – feel free to message us for creating growth content for your business. Cheers!!